AND THE NATIONAL DAY OF SERVICE AWARD GOES TO… PASADENA!!! Pasadena partnered with a local parish's religious education program. Volunteers read two Halloween themed books, did a craft based on one of the books, shared a snack and then helped the kids pick out several books to take home (thanks to an Amazon virtual book drive that was held). The chapter solicited volunteers from a local girl's high school which really helped, especially during the hands-on crafting. Pasadena was able to get an article about their Read to Me day in the local newspaper along with the archdiocese publication, "The Angelus". Congratulations Pasadena!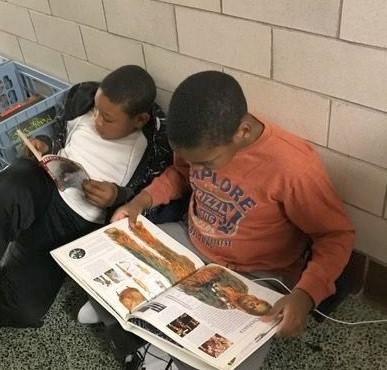 The committee identified one chapter as the runner up – Pittsburgh did a great job adding a literary enhancement to their coat closet distribution with a book nook and book give away. And, as a surprise to the committee (and in the spirit of the season), Pasadena graciously offered to split the prize money ($500) with Pittsburgh, in order to advance their future literacy program efforts. Thank you Pasadena. That was truly very thoughtful of you!!!
Thank you to all those chapters who were able to participate this year. As always, we appreciate all of your efforts, whether on special events or everyday programs.