Have a Project idea?
The Christ Child Society of Pittsburgh is looking for additional service projects!  If you have any ideas for new projects, please

contact us

.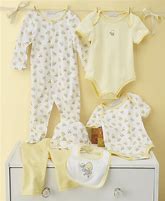 The Layette Program
A common thread among chapters, the layette program is the first program of a newly formed chapter. A gift of new clothing and infant care supplies for newborn babies is assembled and delivered to various agencies. Established social service agencies are referred to us, and enable us to get the layettes to new mothers and their babies. Since 1992, more than 4000 layettes have been distributed in the area.
Additional information on the layette program is available on the National CCS site  here.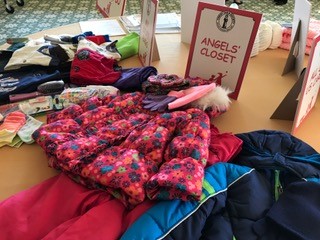 Angels' Closet
This program was begun in 1994, when the Society moved to a larger space and had enough storage. Children are given new coats, hats and gloves for the winter. As with layettes, the recipients are referred to us by established social service agencies. This program distributes the clothing from September through November each year. Members take delight in shopping year round for the coats, hats and gloves. Since inception, more than 6000 children in the area have received warm outer wear for the winter.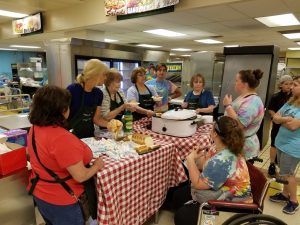 Camp Aim
This camp serves children with physical, cognitive, emotional, social and other disabilities with a unique summer experience.
Children from several districts attend, and many are repeat campers. The program combines life skills, social and recreational activities, physical education, home economics, music and art.
The Christ Child Society has supported Camp Aim since 2011 with the time, talent and treasure of the Society. We help the children with sewing and other arts and crafts on Festival Day, and then serve them lunch. Also, we help with Prom Day, making corsages, helping with clothing selection, jewelry, make up, and manicures.
All activities take place at Carlynton High School.
Camp Aim info available on their website: here

All of Us Care
This "Volunteers of America" program serves children from a local school district with a safe and nurturing place to go after school. The services given range from tutoring, to crafts, to cooking and other life skills and provide a much needed space for children to go and fill afternoons productively. Members help with projects that are suited to their talents.
The Christ Child Society also provides monetary donations for snacks and arts and crafts supplies.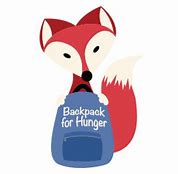 Backpack for Hunger
CCS of Pittsburgh is currently supporting a new mission. BACKPACK FOR HUNGER, located in the Fox Chapel School District, is a program that provides week-end food for children of families in need. These children have breakfast and lunch at school during the week but might not have enough food on the weekends. Food is sent home with each participating child every Friday. Each bag includes enough food for two breakfasts, two lunches, and two snacks. Within the offerings, there will be two fruits/vegetables and two proteins. (A one-day example is a breakfast bar, individual macaroni & cheese, applesauce, and pretzels.) Our Christ Child members can help with this project by attending any packings which take place at Fox Chapel Presbyterian Church.